Tech Deal Tuesday: HP Probook 4530s Notebook PC
A week has gone by and Tech Deal Tuesday is here again. This week's deal is incredible. It caught my eye while browsing through TigerDirect. You definitely can't go wrong with this deal: The HP ProBook 4530s 15.6 Notebook PC
. It's equipped with:
* 2nd generation Intel Core i3 2310-M 2.10GHz processor
* 4GB of fast 1333MHz DDR3
* 15.6″ HD anti-glare display
* Intel HD Graphics 3000
* 320GB Hard drive
* DVD Burner with Lightscribe Technology
* SD Card Reader
* Wireless B/G/N
* Bluetooth 3.0
* Integrated HD Webcam
* Genuine Windows 7 Home Premium Operating System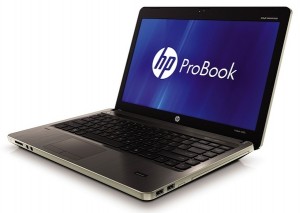 This will handle anything most users can throw at it with EASE. The Intel HD Graphics 3000 chipset is really impressive for onboard graphics. My laptop has this same graphics chipset and it's capable of running games like Street Fighter 4, FIFA 12 and other current games that don't usually run smoothly on other onboard solutions.
Not only is this notebook fast but it feels sturdy and durable. I'm not telling you to abuse the poor laptop, but it does have some reassuring features such as a magnesium reinforced base and a spill-resistant keyboard. Also, this laptop is equiped with the HP 3D DriveGuard tool, which locks the hard drive when sudden motion is detected to better withstand bumps and drops. So if you happen to drop this baby, this cool feature protects the disk keeping your data safe.
It's strong, it's fast and it looks good. You'll definitely turn heads with this laptop. It's brushed aluminum exterior looks very sleek and professional. My favorite feature? The fingerprint scanner of course! You can sign into Windows, Facebook, Hotmail, YouTube, Amazon, Ebay and several other accounts with the swipe of your finger. All these features on a laptop under $500. What more do you want?
Get this Deal! – HP ProBook 4530s 15.6 Notebook PC